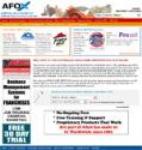 Product by:
Hallmark Conferences and Events


The Hallmark Conferences and Event's AFOX has been joining people with the franchise community since 1996.At our Green Conferences and Event's AFOX you will discover a complete listing of Green Franchise opportunities in Australia.
The franchise sector is conservatively estimated to have a total annual turnover exceeding $30 billion a year, and is growing rapidly. For people want to get a franchise, there is a diverse and smart range of Green Business opportunities present.
Please use the Contact form on the right for AFOX information and ordering.