Achey Breaky and Bruised Oil Product details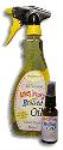 Product by:
Handmade Naturals by Corinne


FEATURES OF ACHEY BREAKLY AND BEUISED OIL.

• Will offer analgesia

• promotes Tissue Healing

• provide either warming or cooling action

• penetrant booster, extender of action and working depth of the Rub

• made from herbs grown-up organically and sustainably

• should stictly avoided by pregnant or feeding women, people undergoing chemotherapy, cautiously by people with aspirin sensitivity

• stay away from irritated skin or infected wounds.

INGREDIENTS

Peppermint, Derived Menthol, White Camphor, Eucalyptus Oil, Grape Seed Oil, Organic Calendula Extract, Thyme Oil, Sweet Marjoram Oil, Ethanol, Salicylic Acid.
Please use the Contact form on the right for Achey Breaky and Bruised Oil information and ordering.