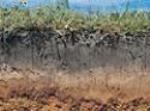 Product by:
Australian Soil Resource Information System


The Australian Soil Resource Information System (ASRIS) began through the National Land and Water Resources Audit (NLWRA) in 1999. The starting release (ASRIS 2001) provided key inputs for a wide range of simulation modeling studies assisted by the NLWRA. These studies granted continental views on erosion, sediment release to streams, nutrient cycling, acidification, net primary productivity, and water quality. The ASRIS 2001 team reached a large deal given the short time offered and intimidating nature of the job.
Between the process, the project team and the Working Group on Land Resource evaluation (which acted as the Steering Committee) identified a series of lacking in the land resource information base for Australia. They also showed a reasonable pathway for prevailing over these problems to guarantee a greatly enhanced information base for natural resource management in Australia. The task was documented to be durable, requiring an enduring project team.
Australian Collaborative Land Evaluation Program has the upper-three scales give general descriptions of soil types, landforms and regolith across the continent. The lower scales provide more in depth information in regions where mapping is absolute. Information relates to soil depth, water storage, permeability, fertility, carbon and erodibility. Mainly soil information is recorded at five pits.The lowest scale includes a soil profile database with fully characterised sites that are known to be representative of major areas and environments.
Please use the Contact form on the right for Australian Soil Resource Information System information and ordering.