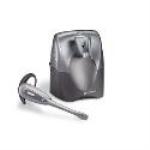 Product by:



For business telecommunications and services is provided as one stop shop on ONETEC. Outstanding sound quality and freedom for hands free wireless up to 100m from your desk is provided through the stylish and trendy wireless headset named cs-60. This lightweight and stylish headset can be available in 3 stylish headsets: -
i. Over the ear
ii. Headband
iii. Our unique behind the neck design.
CS60 has a talk time of up to 9 hours and you also have the option of handset lifter which facilitates you to take calls even you are away from your desk. The IntelliStand feature senses when the headset has been detached from the base automatically lifting the handset and your call is directed to the headset.
Features of the Product: -
a) Mute button facility
b) Fully adaptable with 3 wearing styles -Unique behind the neck style; Ear-loop style; Over-the-head style.
c) Range: - range Up to 100m, in a typical office range is up to 50m
d) Completely wireless solution - no headset cables
e) Talk time up to 9 hrs
f) Quick battery recharge
g) IntelliStand senses when the headset is removed or replaced in the base unit to
h) Talk button
i) DECT technology
j) Automatically pick-up or end a call (requires HL10 lifter)
k) Receive volume control
l) ONETEC is a company that services your existing telecommunications equipment and to your business gives pioneering turnkey solutions.
Please use the Contact form on the right for Cs60 - Wireless Headset System information and ordering.