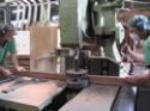 Product by:
Thor's Hammer


Thor's Hammer employs lumber recycled from destruction locations in the vicinity of Australia to create a variety of good-looking architectural goods. These comprises of re-milled and recovered base planks, inside layer planks, stable hardwood flooring, and recycled poles and rafters.
Thor's Hammer recovered lumber from destruction locations in the vicinity of Australia, counting old houses, factories, bridges, and wharves. We hold and boost the exquisiteness and the past of these lumbers as we arrange them for use in your projects.
Covering exposes the lovely colour and granule of recycled lumbers, but it can be hard machining lumbers which have turned out to be nearly rock hard. To make this course of action cost efficient, Thor's Hammer has endowed in specialised dressing machinery.
Firstly lumbers are cautiously metal perceived to ensure there is no spikes or metal left in them, then they are sawn to size on our bottomless ability band re-saw. With our six head moulder, lumbers are unbent, sized and outlined in one overtake. Some of the alternatives obtainable are:
1) Additional broad and extensive strips and coating plank,
2) Avoidance and architraves, picture casing mouldings and floor planks dressed to equal the side view of your on hand planks for maintenance.
We also can offer a sanding service for worktable clippings and lumps up to 1300mm wide. Our blend blade planer and sander will take away up to 5mm of lumber with the planing leader and sand excellently all in one overtake. This machine is a gigantic time saver!
Please use the Contact form on the right for DRESSING information and ordering.