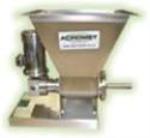 Product by:
Acromet


With more than 30 years knowledge on powder treatment gear, Acromet is the business organizer when it comes to resolving your material treatment wants.
Acromet produce an exclusive variety of Volumetric and Gravimetric Dry Material Feeders to outfit General Industry, Food, Mining, Plastics and Water Treatment industries.
We provide auxiliary tackle such as Bulk Bag Unloaders, Continuous Blenders and Flexible Screw Conveyors balance the variety, to supply absolute turn-key resolutions.
Our systems are planned to precisely meter, and transfer Dry Materials in many forms, like powders, granules, chips, chunks & flakes.
Our apparatus is produced and planned in Australia, and is obtainable in the subsequent edifice: Mild Steel, Industrial Stainless Steel and Stainless Steel (Food Quality Finish).
Please use the Contact form on the right for Dry Material Handling Equipment information and ordering.