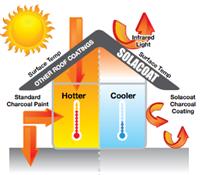 Product by:
Clements Solar Power Systems


Here at Clements one of our most environmentally innovative services is our Solarcoat Heat Reflective Insulation Paint Coating.
Solacoat is one of the most efficient and cost effective forms of heat insulation that is available to us. It is a waterborne acrylic emulsion based product that contains a special membrane additive. This chemical helps reject the infra red rays from the sun entering into the walls.
To be clearer, Solacoat will, on a typical summers day, give up to 80% rejection of solar radiation. With a coat of SolaCoat, the surface temperature of galvanised iron can be decreased by 40°C. This means a drop of 20°C within a building - leading to more thermal comfort without the need for any air conditioning.
Using Solacoat on your roof can reduce savings from power generation by a lot. In fact, a reduction of 4 tonnes in the amount of carbon dioxide Greenhouse Gas going into the atmosphere.
Solacoat features good architectural appearance. It also has great durability, waterproofing and covering properties.
Please use the Contact form on the right for Eco Heat Reflective Insulation Paint Coating information and ordering.