Electric Boosted Solar Hot Water Product details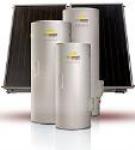 Product by:
EcoSmart Hot Water - Head Office


EcoSmart Hot Water - One of the most environmentally friendly domestic hot water solutions available is Head Office. In the comparison with standard electric hot water system it generates lower green house gas emission.

You may be qualified for government inducements when your Solar Hot Water System is installed. This makes EcoSmart Hot Water - Head Office yet extra cost efficient choice.

And here's more good news, nearer to 80% yearly savings are offered by an electric boosted Solar Hot Water system on your water heating costs*. Your EcoSmart system will pay for itself in no time.






Please use the Contact form on the right for Electric Boosted Solar Hot Water information and ordering.
Other EcoSmart Hot Water - Head Office Products
1 listed

Australia is the world's driest inhabited continent. We are in the midst of a huge water crisis. ... more »