Extended Charters Product details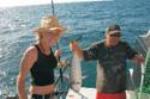 Product by:
Whalesong Cruises Hervey Bay


Following are some of the charters we have done:

Mv whalesong makes a wonderful house boat for extended charters.

World heritage listed fraser island & the great sandy straights marine park offers pristine waters, natural and unspoilt beaches, abundant wildlife and fantastic fishing.
Over the past 4 years Whalesong Cruises Hervey Bay have been mother ship and finish boat for the committee on the bay to bay yacht race sleeping up to 15 people and feeding breakfast for up to 30 people.
Whale song Cruises Hervey Bay 2 weeks cruising the Capricorn Bunker group chartered by the Oceania Project researching the Humpback Whales on their northern migration.
Please use the Contact form on the right for Extended Charters information and ordering.
Other Whalesong Cruises Hervey Bay Products
1 listed

Sunset Cruises Whalesong Cruises Hervey Bay's sunset cruises is one of the few places on the east coast of Australia were you can see the... more »