Girl'S Angel Quilt Product details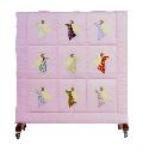 Product by:
Generation Wonder


Generation Wonder's Pink Angel Quilt has twelve angel designs.
The quilt has a cotton outer and a polyester inner quilting. Each angel quilt is unique in Fabric.
The quilt measures 124cm (length) x 92cm (width). It can be handwashed.
It is a truly beautiful piece for the cot, wall or used as a floor rug.
Please use the Contact form on the right for Girl'S Angel Quilt information and ordering.
Other Generation Wonder Products
1 listed

From a community viewpoint, the farmers and pickers of the cotton are not exposing to destructive chemicals in the field. And the construction of these... more »
Eco Clothing –
Green Clothing –
Organic Clothing