Grey Wter Diverter Product details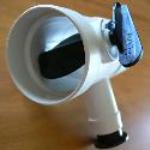 Product by:
SALA Homes


Sala Homes Grey Water Diverter is treated either on land or in water ways.
It is a simple and cost-effective method of redirecting household grey water from your shower, bath, hand basin or washing machine to your garden instead of into the sewer.
This grey water diverter saves water and helps towards sustainability.
Please use the Contact form on the right for Grey Wter Diverter information and ordering.
Other SALA Homes Products
1 listed