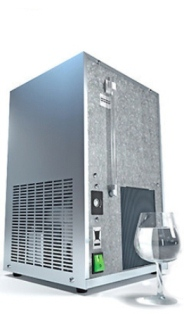 Product by:
Clever Water


The H2O MY WG is a small and discrete Water cooler that fits neatly into a cupboard, leaving surfaces free. Providing chilled filtered still water as well as chilled sparkling Filtered Water.
This is a winner in both the home and hospitality environment due to the space saved in fridges and eliminating the need for bottled water.
The under bench H20MYWG uses a Brita AC1000 Purity C Filter. The filter eliminates chlorine, impurities, bad odours and bad tastes and reduces build up of limescale, supplying you with great tasting and healthy water to drink around the clock.
With a range of taps and drip trays to suit your bench top requirements this unit can be as load or as discrete as you desire.
Available for both rental and purchase.

Call Clever Water to discuss your needs 1300 55 33 82.

www.cleverwater.com.au
Please use the Contact form on the right for H2OMYWG - Cold & Sparkling Water Cooler information and ordering.