Intellicon Commercial Air Conditioning Saver Product details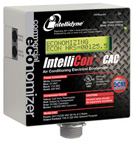 Product by:
Australian Electronic Water Conditioners


Intellicon's patented process determines the "cooling demand" and "thermal characteristics" of the entire air conditioning system by analyzing the compressor's "cycle pattern," and dynamically modifies that "cycle pattern" to provide the required amount of cooling in the most efficient manner.
This is accomplished in"real-time" by delaying the start of the next compressor "on" cycle by an amount determined by the "cooling demand" analysis. These new patterns also result in less frequent and more efficient compressor cycles.
Please use the Contact form on the right for Intellicon Commercial Air Conditioning Saver information and ordering.
Other Australian Electronic Water Conditioners Products
1 listed

Used for Buildings, Apartments, Office Buildings, Hotels. Hospitals, Supermarkets. Shopping Centres etc. Removes scale and slime from cooling towers, chiller condensers ... more »
Energy Saving Devices –
Energy Efficiency –
Energy Efficient