Komo Fidibus 21 Product details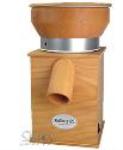 Product by:
Schnitzer Mills


Schnitzel Mills' Komo Fidibus 21 are 32 cm in size, but with grinding capacity of the big mills.
This mill chamber enables smooth communication of all the apparatus and an agreeable operating volume, even in continuous operation.
With all these advantages the Fidibus 21 is still only 6.2 kilograms. The corundum in ceramic millstones and direct drive initiation motor give great results. Adjustment is variable from fine to course by simply turning the top grain hopper to raise or lower the upper stone.
The milling stones are self sharpening, designed by Schnitzel Mills for long life and low temperature output.
Please use the Contact form on the right for Komo Fidibus 21 information and ordering.