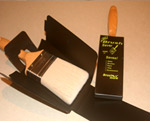 Product by:
Brushmore


Eco Paint Brush Covers by Brushmore are for professional painters, renovators, Builders or home DIY enthusiast, do not start your next Paint job without the time and money saving Brushmore Brushcover.
Mick White the inventor, thats him in the video, invented and patented the brushcover to protect his brushes between jobs and to save himslef money and time while working.
Mick reckons he saves 20 litres of water washing each brush, 20-30 minutes each day and that his brushes last longer and perform better.
• Clean your brush only ONCE per job!
• Keeps brushes from drying out
• Hold the shape
• Saves the need to wash out overnight
• Extends the life of quality brushes
• Environmentally friendly
• Overnight or for extended periods
• Store your brushes wet or dry
• Australian owned
Please use the Contact form on the right for Paint Brush Covers information and ordering.