Pre-Wash Stain Remover Product details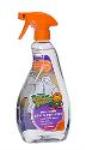 Product by:
Orange Power


Following are the features of pre-wash stain remover: -

1. Natural Citrus fragrance

2. Australian Made & Owned

3. Biodegradable properties, safe for septic

4. Dissolves food and dirt stains in seconds

5. Renewable resources from Australian farmers

6. Large 750mL clear ecological bottle with trigger

These are the Benefits of Pre-Wash Stain Remover: -

1. Wash Away Most Stains

2. Environmentally dependable

3. Orange Power will not harm colorfast materials, woolens or delicates or irritate sensitive skin.

4. Orange Power Pre-Wash Stain Remover eliminates most intractable fabric stains such as dirt, greasy marks, collar & cuff grime, perspiration and also more complicated soil such as grass, red wine, chocolate, food & some kind of ink.

5. More Natural Formula 'Orange Power Pre-Wash Stain Remover' relies on the natural cleaning power of "orange oil" (or d-limonene' which is a clear distilled form of orange oil), as an alternative of petroleum-based solvents. Orange Power des NOT include Bleach, Ammonia or Chlorine like any Extra cleaners.

6. All Orange Power goods are :earth friendly-thanks to an amalgamation of natural and renewable component like orange oil and an obligation to no added colours, preservatives, perfumes, bleaches and caustic material. They are biodegradable and water safe.

7. Orange Power does not use any artificial, synthetic fragrances which is basically the natural fresh fragrance derived from citrus.

All Orange Power Eco Cleaning products feature are recyclable "PET" packaging and pure, clear liquid. This reinforces the transparency of the invention and the deficiency of added colours and conservation, which often lead to exasperation or allergies and environmental injuries. The clear wrapping also provides the facility to the user to see the liquid level.

Septic Safe: - Orange Power items are safe for septic systems and good for sewerage environments.
Please use the Contact form on the right for Pre-Wash Stain Remover information and ordering.
Other Orange Power Products
2 listed

Orange Power's Multi-Purpose Cleaner & Sanitiser offers you the most powerful and eco friendly sanitiser.... more »
Eco Bottles –
Natural Products –
Natural Ingredients

Austech Product's 'Orange Power Carpet & Upholstery Spot Cleaner' removes stains both old and new from carpets and upholstery. It can be used safely on both woollen ... more »
cleaners –
Eco Carpets –
Eco Cleaning Products