Project Case Study Archive Product details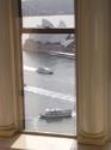 Product by:
Magnetite - Insulating Windows


Following is an example of the unobtrusive nature of Magnetite:

Insulating Windows product: - It can fit simply over any technique of window without dropping the occupation of aesthetics of the windowpane.

Magnetite: - Insulating Windows use an optical grade arcylic that won't lose color or discolour, so what you see through your window is that you'll see with their arrangement establishment.
Please use the Contact form on the right for Project Case Study Archive information and ordering.