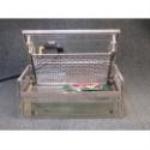 Product by:
Technical & Scientific Equipment


Technical & Scientific Equipment make available underwater vacuum leak tester TSE 2032 which is easy one hand operation.
The TSE 2032 of Technical & Scientific Equipment is a mechanism to embrace the pack under the
Water
level, offering simple and express operation. The tester can be organizing with a vacuum
Pump
, regulator, and automatic sequences to control the interval of the test, if it is required.
1) Fast and Sensitive
2) Fully transparent base which allow easy screening of all bubbles
3) Identifies the position of leak
4) Generally a destructive test
5) Tests seal potency as well as leakage
6) Package held in submerged position
7) All round transparency for easy visibility
8) Optional inbuilt vacuum pump using compressed air only
Please use the Contact form on the right for Underwater vacuum leak tester information and ordering.