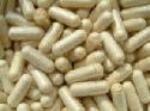 Product by:
Natural Animal Care


Antioxidants
Natural Animal Care offers a greatly strong antioxidant supplement that is suitable for dogs and cats.
Natural Animal Care's Antioxidants hold betacarotene, vitamin c, calcium, coQ10, bioflavanoids, vitamin e, vitamin a, zinc, selenium, milk thistle, hawthorn, tomato, marigold, gingko biloba, grape seed & green tea.
Please use the Contact form on the right for Antioxidants1 information and ordering.