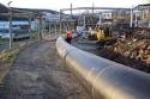 Product by:
AWMA


AWMA's Piping Division has the ability to butt-weld, extrusion weld and hot air weld HDPE and polypropylene for custom designed Poly Pipelines and systems.
Poly (HDPE) is butt-welded and made-up into pipelines, systems and a range of water control solutions for commercial, industrial and on-farm needs.
The AWMA Poly Division is located on a 10,000sq metre facility within AWMA's 5-acre manufacturing plant in Cohuna northern Victoria.
Our teams of entirely qualified, capable and very experienced poly welders travel Australia wide to make possible on-site welding and installation as required.
As with all our install crews, the Poly team has a well-known reputation for outstanding customer service, providing on-site explanation, assistance, support and training for our clients.
Pipe up to 1000mm in diameter can be angle or straight butt-welded using flood or class pipe. Welds are certified to Australian Standards. All OH&S, Quality and Environmental policies of AWMA and our clients are also firmly adhered to.
AWMA's has huge range of Poly products and services that contains: Pipelines, Poly Ducting, Smelter Chimneys, Storm Water, Pump Wells, Re-use Systems, Delivery Lines, Suction Pipes, Pontoons, Pipe Fittings, Rubber Seals and Guides, Butt-welded Segmented Bends.
Please use the Contact form on the right for Awma Piping information and ordering.