Carry Bag Product details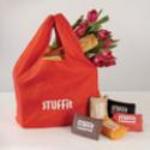 Product by:
Ingenie


The singlet shape of the Ingenie's Stuffit carry Bag creates it a lot more realistic than several other re-usable Bags.
Ingenie's carry bags have the capacity to hold several kilos of shopping or other of your things and all seams are finished and resistant for durability and stability.
Please use the Contact form on the right for Carry Bag information and ordering.
Other Ingenie Products
1 listed

Ingenie's swing bag is a messenger shaped bag that can go anywhere anytime. On your scooter, in the taxi, by foot and anytime!... more »