Environmental And Sustainability Education
Environmental And Sustainability Education Product details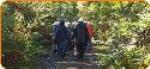 Product by:
Natural Resource Conservation League


Natural Resource Conservation League's Environmental and Sustainability Education program are based at Warburton on the Warburton Highway & utilize this spectacular and unique location in the Yarra Ranges National Park.
Visiting the Cement Creek Reserve and Forest Skywalk, pristine mountain creeks and exploring different forest types is a most rewarding learning experience.
Please use the Contact form on the right for Environmental And Sustainability Education information and ordering.