F6T - Drop-In Product details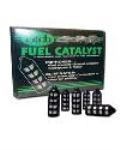 Product by:
Fitch Fuel Catalyst Australia


The Fitch F6T - Drop-In lets you discover that your engine will start easier, burn less Fuel and increase performance.

The combustion improvement caused by the the Fitch Fuel Catalyst produces a number of benefits as the fuel is consumed more completely, less fuel is burned, emissions are lowered and power is increased.
The engine oil remains cleaner, longer because blow-by is reduced. Because carbon build up in the engine is also reduced the life of the engine is enhanced. Hence we have a more efficiently running engine in terms of the following:

• From 5-12% fuel savings

• Reduced emissions

• Increased horsepower
Please use the Contact form on the right for F6T - Drop-In information and ordering.
Other Fitch Fuel Catalyst Australia Products
2 listed

Not only are power gains noted but better economy and reduced exhaust emissions.With the average motor cycle rider commenting of travelling 20+ kilometers further ... more »
Green Cars –
Eco Cars –
Cars

The F500 In-Line Fitch Fuel Catalyst - just once and discover how your engine will start easier, burn less fuel and increase overall performance.... more »
Fuel –
Eco Fuel –
Fuel Saving