Food Stylist Product details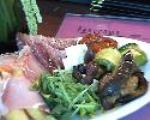 Product by:
In a Pickle


In a Pickle's Food designer Deborah can design, suggest new ideas and help with imaging by Web sites desiged for your business.
Recipe cards can be written through an easy Excel spreadsheet which can also work out accurate costing and mark ups.
To help with food presentation, digital photos can be taken of the finished product so kitchen staff can know exactly how food is to be prepared.
Please use the Contact form on the right for Food Stylist information and ordering.
Other In a Pickle Products
1 listed

Hospitality Course Pickle's offers Hospitality Course whose duration is 12 week course has been written specifically for the hospitality industry... more »
Eco-businesses –
Courses –
Green Businesses