Fresh Biodynamic Roots Product details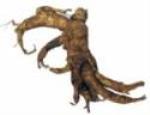 Product by:
Simply Ginseng


The fresh diodynamic roots have been grown on Simply Ginseng Farm and are 7 to 9 years of age & are available all year round. They are of high medicinal value because they are older plants; they are fresh with no losses due to processing and, being biodynamic, have been grown without chemicals.We dig the roots from our garden the same day that we post them to you.
Fresh simply ginseng can be used in salads or cooking or can be taken by holing a slice under the tongue until it softens. The dose rate is approximately 3 grams per day and fresh ginseng is best taken in the morning.
Please use the Contact form on the right for Fresh Biodynamic Roots information and ordering.
Other Simply Ginseng Products
1 listed

Ginseng 500 capsules Simply Ginseng's Ginseng 500 capsules contain 500mg of 100% pure organically grown American ginseng, without additives... more »
Natural Health –
Organic –
Natural Products