Ginseng 500 Capsules Product details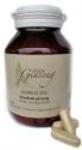 Product by:
Simply Ginseng


Ginseng 500 capsules contain 500mg of 100% pure and Organic American ginseng, without additives or fillers of any kind. American Simply ginseng is widely used to enhance the overall feeling of wellbeing and vitality and for its preventative and restorative functions.
It helps the body cope with stress, boosts the immune system, enhances brain function and helps regulate various metabolic disturbances including blood sugar and lipid levels. Simply Ginseng It is also an antioxidant that scavenges free radicals in the body - this results in an anti-aging effect.
Please use the Contact form on the right for Ginseng 500 Capsules information and ordering.
Other Simply Ginseng Products
1 listed

Fresh Biodynamic Roots The fresh diodynamic roots provided by Simply Ginseng are usually available in all year round. These have been grown on... more »
Farm –
Eco Farming –
Bio-dynamic Farming