Green Clean For Homes Product details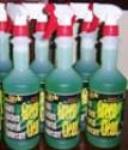 Product by:
Green Clean


750ml atomiser Nature's StyleMagic Spray is a combination of nature's essences.
Correctly formulated, it is very effective in its desired actions. Nature's Green Nature's StyleMagic is gently and effective for almost all home maintenance & Cleaning.
Please use the Contact form on the right for Green Clean For Homes information and ordering.