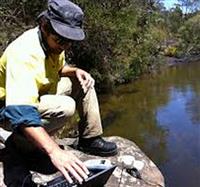 Product by:
SGS Consultants


Our team here at SGS Consultants specialises in groundwater consulting. We are based in in Townsville, North Queensland.
Our team features extensive experience in knowledge in groundwater, environmental and Natural Resource Management projects.
Our strengths lie not only in our knowledge and ability to provide practical solutions, but also in providing professional services to our clients. We like to have the best possible communication with our clients so we can get the project completed on time, on budget and of course meeting all the aims and objectives.
Our services include finding groundwater supplies, groundwater drilling and exploration, bore design and construction, hydrochemistry, groundwater quality assessments, dewatering assessments for mining or infrastructure projects, seawater intrusion prevention, groundwater monitoring and modelling and much more.
Please use the Contact form on the right for Groundwater Consultants and Natural Resource Mangement information and ordering.