Heating Your Environment. Product details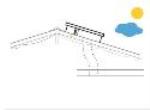 Product by:
Smart Roof Australia


In cool weather, there is a significant build up of warm solar heated air captured in the roof ribs or under the roof tiles of your home.
This air is dragged to the Smart Roof Australia's smartbreeze unit by fans, energised by the Solar Panel on your roof. Smart Roof Australia's Smartbreeze will direct this warm air into your living spaces whenever it can be used to achieve your desired temperature.
Please use the Contact form on the right for Heating Your Environment. information and ordering.
Other Smart Roof Australia Products
1 listed

Here at Smart Roof Australia, we provide solutions for your house cooling and heating.... more »
Eco Cooling –
Roofing –
Roofing Solution