Led Lighting Product details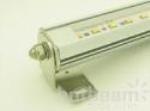 Product by:
Led Lighting Supplies


Innovec Control's Products include Single Marker Lights, Dual Marker Lights, Guards Blue Light, Timetable Lights, Tube Light, Minieye Down Light, Warning Lights that flash, Warning Lights that have selectable flash patterns and Back Lighting for instrument panels.
Innovec Controls Pty Ltd is an Australian manufacturer of Led safety lighting which is used expansively on railway rolling stock, factory automation and in the mining industries. Our railway rolling stock products are found on new passenger vehicles across Australia as well as being retrofitted to earlier model tank engine in NSW and Victoria.
Please use the Contact form on the right for Led Lighting information and ordering.