Natural Stone Mosaic Tiles Product details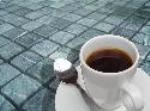 Product by:
Ecospective


Ecospective Mosaic is also ideal for exterior applications such as patios, garden paths and walls, Available in grey, onyx, pink, terracotta, white and yellow stones.
Ecospective Collection offers stunning combinations of hand selected coloured stone that when laid give a seamlessflow of tumbled stone.
The unique four sided interlocking edges conceal where one tile ends and another begins. The range of colours and products is ideal for interior wet areas such as bathrooms and kitchens or living areas.
Please use the Contact form on the right for Natural Stone Mosaic Tiles information and ordering.
Other Ecospective Products
1 listed

Ecospective's Palmwood Flooring features superior strip-flooring boards that reflect the best attributes of natural palmwood.... more »
Timber –
Green Tree –
Wood