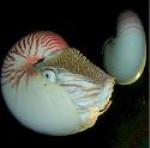 Product by:
Undersea Explorer


Osprey Reef is the ideal location for a Research project into these amazing deep sea creatures as the Nautilus of Osprey Reef, Nautilus pompilius spend their whole life cycle there, as they are "imprisoned' by the 1500 metre deep surrounding waters and their lack of a larval dispersal phase.
During each expedition Undersea Explorer conduct deep water trapping at a variety of sites and depths to seek new deep sea animals and to search for the undiscovered juvenile nautilus habitat.
With the expertise of the nautilus biologists the average capture rate of 14 nautilus per trapping sessions is consistent. Tagging and releasing the animals at night after a day of relaxation in cooled tanks onboard Undersea Explorer ensures their wellbeing.
Please use the Contact form on the right for Nautilus information and ordering.