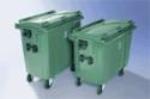 Product by:
Big Ears Pallets


Big Ears Pallets Exchanges in the waste-disposal sector
Less waste is inclined and extra is recycled. However recycling only formulates sense from a financial and environmental point of inspection if the substances to be recycled are presented in large and more significant - unmixed quantity. This requires the job of sorting exposed the waste from the individual expensive material and introducing them in individual containers, which should be done honestly on position.
Big Ears Pallet's Plastics Material
To keep Creamer's stringent standards, only best quality of product is used for the manufacturing of plastics or metal.
An extensive product variety:
That is exactly where KLIKO containers come into their individual Container systems for dealing with waste in all segment whether centrally or on location no matter whether the equipment are to be recycled or predisposed. A broad variety of 2& 4 wheeled containers of different capacities and for a variety of removal systems are obtainable to their clients.
Please use the Contact form on the right for Plastics Products For Logistics, Storage And Waste Disposal information and ordering.