Remanufacturing Product details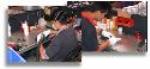 Product by:
Quickfill Toners


Quick fill Toners generate a Remanufacturing, which is a progression of Recycling laser toner Cartridges so that they can be used once more as a full laser toner cartridge for yet a different cycle.
This is not only economic for the consumer as built-up cost that is minor but, Quick fill Toners has also a enormous advantage to the atmosphere as millions of tones of otherwise discarded cartridge shells turn into reused, as an alternative of finale up as landfill.
Please use the Contact form on the right for Remanufacturing information and ordering.