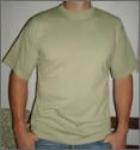 Product by:
Finnstarz


The aspiration of the Finnstarz collection of advocacy t-shirts is to provide relaxed and cozy t-shirts for your little ones, which encourage and maintain breastfeeding, by using only the most lusciously soft 100% organic cottons.
They hope that you take pleasure in his designs and discover them amazingly fun and funky.

All designs are available in:

a) Sizes for 6-12 months kids,

b) Sizes for 12-18 months kids,

c) Sizes for 18-24 months kids and

d) Sizes are 2, 4 and 6.
Finnstarz advocacy t-shirts have a delicate, high-end Organic Cotton look that sets them apart from other t-shirts. Which is finished with 100% USDA Certified Organic Cotton, they take pride in the fact that they address the environmental crisis caused by the exercise of pesticides on the time period of cotton cultivation procedure. Made in a sweat shop free environment

1) These t-shirts are 100% Certified Organic for baby rib cotton, combed for softness and comfort.

2) Sizes up to 18-24mths have a cleverly manufacture neckline planned for easy on-and-off, and sizes above this have a round neck,

3) Look great on all babies Both boys and girls, have a 1cm neck and sleeve binding, have a durable 2.5cm double-stitched bottom hem.

4) The design printing process takes place in Melbourne, Victoria.

Please use the Contact form on the right for T-Shirts information and ordering.