Vegetarian And Natural Health Product details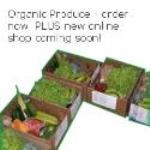 Product by:
Methis


"Bamboo Vegetarian Organic Cafe's organic fruit and vegetable boxes for locals, supplies suitable interpretation products and sells a various range of natural healing items like olive leaf extract.

Bamboo Vegetarian Organic Cafe's are presently planning for his new online service where you will be capable to purchase organic foodstuff, personal and cleaning products as well as flowers (not organic) and home medicine like olive leaf extract and essential oils.

In the meantime this is how our service works currently. They pack mixed boxes, minimum size $40 and they record your dislikes and likes and pack a box according to the best availability.
Please use the Contact form on the right for Vegetarian And Natural Health information and ordering.