Vitale Natural Product details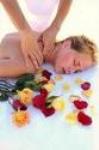 Product by:
Vitale Natural Skin & Body Care


- Vitale Beauty Membership
Category: - Natural Skin Care, Body Care & Beauty Therapy.

Skin type: - All Beauty Buffs

Explanation: -

Enjoy the benefits of a Vitale Beauty Membership.

The Vitale Natural Skin & Body Care's Vitale Membership is a method for you to get the experience the most brilliant Organic beauty services.

The 12 month membership includes: -

1. Get two 30 minute facials to give to friends.

2. At the time of your service, you choose from one of the following add ones at prices.

- Full body salt scrub normally $45 for $22.50

- Manicure normally $35 for $17.50

- Pedicure normally $60 for $30

- Eye care package normally $40 for $20

- Wax of your choice at half price

- Any facial at half price

3. A complementary skin consultation valued at $25

4. Receive $20 off massage

5. 5% off product for the entire 12 months

6. 20% off Vitale Gift Certificates for the entire 12 months

7. 10% off your next full priced appointment if you re-book on the day of your visit. Your 1/2 price discounts will still apply

8. Carry a new friend in for a treatment they will receive their visit at - price

9. Monthly extraordinary offers via SMS

10. Discounted last-minute fill in services

Get the benefit of up to $399 worth of beauty services provided by Vitale Natural Skin & Body Care to its Vitale Membership. Utilize it within 12 months, for just $99. They would love to have your presence.

Directions:

Make a call them to search exposed more or choose your membership online. They will send your membership package any where to you, along with all the vouchers and offers you cam be take pleasure over the next 12 months.
Please use the Contact form on the right for Vitale Natural information and ordering.
Other Vitale Natural Skin & Body Care Products
1 listed