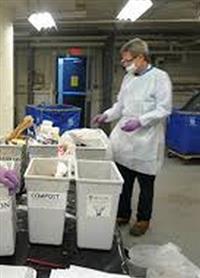 Product by:
Closed Loop


Here at Closed Loop, we know that the first step to an effective resource management for any sustainable and eco focused group is a professional waste assessment that is conducted by expert auditors.
The key to reducing waste is to determine the baseline of your waste circumstances. Here, we recommend to do this via a waste Audit.
A Closed Loop waste audit provides highly quantified information about your waste material composition and location. These are the essentials for identifying and prioritising an effective management program.
Waste audits are here to benefit any organisation or group who wants to improve their resource efficiency and environmental impact. This includes advisory firms, and facilities management companies who needs detailed waste data but don't have the resources to compile it in-house.
We offer audits for a large range of industries, from aviation to hospitality and health.
Please use the Contact form on the right for Waste Audits for Sustainability information and ordering.