Water Blessing Labels Product details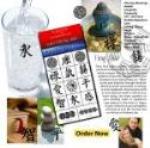 Product by:
Gnostic Forest


The Gnostic Forests Words express ideas, inspire creativity, and soothe the weary heart, but they already have design, shape and essence that can reproduce beauty and divinity. Mostly they utilized an artistic and sensitive approach in selecting the accurate words to communicate deep personal intentions. Calling on The Spirit of Water to guide us in our selection, they consider that they have formed the assortments that reflect the highest spiritual ideals.

Constructing a unique pairings of Water Blessing Labels to appearing your sincere objective The Gnostic Forests Water Blessing Labels will effort for you 24/7 transferring silent messages into your water transforming yourself and the universe. Best of all, when you place your purpose into your water, you are placing the Spirit of Water into action for you. Water in accomplishment equals the Law of Attraction. They know it mechanism.
Please use the Contact form on the right for Water Blessing Labels information and ordering.