Water Diverter Product details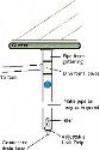 Product by:
West Coast Poly


West Coast Polys First Flush Device that is a easily diverted the Water which is agree to the original flow of water from the roof to be abstracted into a chamber and going to that way.
West Coast Polys First Flush Device allows the roof to be flushed & clean before water is going into your water container.
That a simple & effective device which is simple to establish, available in kit form, Pipe requirements to be added, that is near about maintenance free.
Please use the Contact form on the right for Water Diverter information and ordering.
Other West Coast Poly Products
1 listed

Leaf Eater This is a high performance rainhead designed by West Coast Poly for debris removal, preventing leaves entering the catchment pipes, yet ... more »