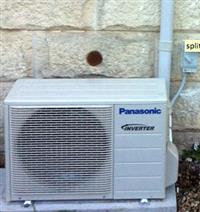 Product by:
Sun Air Solutions


Here at Sun Air Solutions, we are experienced and experts when it comes to split system Air Conditioners.
Split systems are simply Air Conditioning units that will allow you to just heat or cool specific sections of your house or home. Due to the fact that they are positioned to efficiently service a specific area of your home, they don't waste power heating or cooling rooms that aren't occupied or when thermal comfort is not necessary.
The latest split systems are very energy efficient. In fact, they will most likely to be considerably cheaper to run than your traditional central heating and cooling.
Here, our team have the skills, knowledge and accreditation to completely install a split system for your household. This system would be our first and top recommendation to anyone looking for a new thermal and cooling unit.
Please use the Contact form on the right for Why choose split system air conditioners information and ordering.