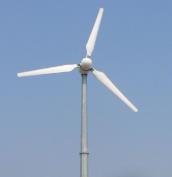 Product by:
CMA Solar-SEG PV


Wind powered Renewable Energy provide a great source of clean and sustainable source for all your facilities. It is also fantastic for feeding excess approved power back into the grid to reward you with credits.
Wind Power does not rely on the sun - so when located properly, you'll will be getting almost constant energy any time of the day. With low ongoing maintenance costs, no fuel consumption and pollution, wind power is definitely an option to consider.
We feature Chenma systems, which is the producer of the world's low noise turbine capable of producing a charge at wind speed as low as 1.8 m/s. They are designed for grid tie application. It is especially suitable for domestic properties, farms and small businesses.
They also feature Advanced pitch control and is Specially designed for grid tie applications. It has a fast response for wind speed and direction changes and is designed to be highly reliable and safe to use.
They are also Optimised in terms of its aerodynamic performance for the low wind speeds between 5 m/s and 8 m/s.
Please use the Contact form on the right for Wind Powered Renewable Energy information and ordering.