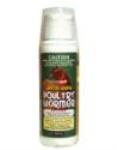 Product by:
Natural Animal Care


Natural Animal Care's Worm-Enda is to be added to water for the treatment of large caecal worm, round worm and
Hair
worm in poultry including turkeys, pheasants, quail chickens, ducks and geese. For the prevention of worm infestation Natural Animal Care's Worm-Enda is recommended for use three to four times a year.
125 ml treats up to 12 kg body weight (e.g. 6 x 2kg birds) four times.
Note: it is not recommended that the use of this product for the duration of extremely hot weather. For
Egg
layer there is no withholding period is needed.
Please use the Contact form on the right for Worm Enda Poultry Wormer information and ordering.