Yelverton Brook Product details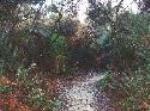 Product by:
Sanctuary


Conservation Sanctuary
At Yelverton Brook they have a special predator proof Fence of rabbit netting 1200mm high with 3-4 hot wires & rabbit restore on both sides of the fenced on the entire 100 aces on the ground for the purpose of stop/discourage the way of entering predators in the Property.
For e.g.: Introduced species such as foxes and rabbits through to feral cats & dogs. The barrier is presently 1.6mts in height and further extension up to 2.1mts high will happen as funds become available. Donations are most welcome you can make payment by credit card or Pay Pal.
They hope to expand the predator fence higher then 2.1mts with extend beyond to deter feral cats from entering in the property. Any financial help would be greatly appreciated.

They still survive in a shed/office whilst completing this Conservation Sanctuary fence, in this place Visitors will have all the luxury & comfort of home!
Please use the Contact form on the right for Yelverton Brook information and ordering.