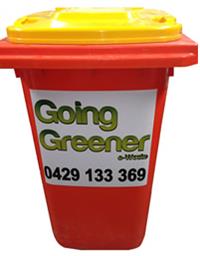 Product by:
Going Greener


Here at Going Greener, we provide free electronic and Electronic Equipment Recycling services for Computer Repairers in Melbourne - or just anyone with a unfixable computer.
What we do is that we will come to you and collect all your faulty and unwanted electronic waste. We can even offer you a normal size bin to make your life easier. When it fills up, just give us a call and we can arrange a driver to collect your e-wastes.
In fact, for business in the I.T industry, you can also arrange for a driver to come in perhaps once a week or once a fortnight to empty out the bin. We can help keep your workplace a cleaner environment to work in.
Our service to you is to do all your recycling and waste collecting for free.
Please use the Contact form on the right for e-Waste Collection information and ordering.