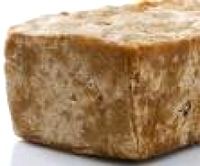 Product by:
Jah Naturals


African black Soap is soft with an organic shape. It has a delicate texture and a natural, earthy smell. It is not oily, and can be used in its natural form for hands, face, body and hair. It is most commonly found in Ghana, Africa however other countries have their versions of black soap as well. This soap has a super lather that builds instantly and a small amount goes a long way. Great for sensitive skin! Enjoy!
The benefits of African Black Soap:
- Helps deep clean skin.
- Great for removing makeup
- Works on most skin types including rough and dry or sensitive skin
- Helps clear skin bumps and spots
- Helps relieve acne, oily skin & other skin problems.
- Works against premature facial lines and wrinkles
- Can be lathered and used as a shampoo.
Please use the Contact form on the right for African Black Soap information and ordering.