Apple Snacks Product details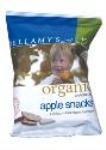 Product by:
Bellamy's Organic Farms


An outstanding snack good for all ages from 12 months onwards is Bellamy's Organic Farms's Apple Snacks.This apple snack will definitely provide great temptation for all members of your family.
Bellamy's Organic Farms provide fresh apples that are cut into bite-sized pieces and snap freeze-dried into a naturally sweet and crunchy snack.
No preservatives and no sulphur are used in drying methods to make them - just pure fruit including vitamins and minerals.
Ingredients is biodynamic and organic apples.
Please use the Contact form on the right for Apple Snacks information and ordering.
Other Bellamy's Organic Farms Products
1 listed

Bellamy's Organic Farm's Baby Porridge is easy and simple to prepare by mixing with breast milk.... more »
Organic Baby Products –
baby food –
Eco Baby