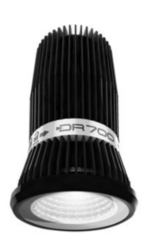 Product by:
Todae


The Brightgreen DR700 is an amazing innovation in LED lighting which can replace any standard 50 watt halogen downlight globe and provide 1:1 light - but only use 10.5 watts instead of 50 watts (meaning lower electricity costs)!
Simply remove your halogens and replace with the DR700. It is that easy to install the DR700! Please check first that you have a MR16 fitting (which has two sharp pins and is most common for 12V recessed downlights).
Why not make a difference to global warming and your budget by trying one at home today? You can see how it works and then consider replacing more. Plus, there's no risk with our 30 day money back guarantee.
Advantages of choosing a Brightgreen DR700 LED bulb:
- total light output of 720 lumens, the same as the average 50 watt halogen bulb*
- compatible with most dimmers (see below)
- compatible with most transformers
- 3 year manufacturer guarantee
- on average, pays for itself in two years residential use and one year in commercial use
- designed for the Australian market.
Victorian residents may be eligible to receive a government rebate when purchasing this product. Winner of the Premier's Sustainability Awards 2012 and recipient of a Good Design™ mark from Good Design Australia.
Designed for Australia LED product life is all about heat. The more heat you can extract from an LED, the longer it lasts. The DR700 is uniquely designed to dissipate that heat in hot Australian conditions, ensuring its long life – a fact we are willing to back up with a guarantee of three years. And with an average payback of two years in residential and one year in commercial, this means a guaranteed doubling or quadrupling of the original investment.
How do I know whether this bulb is compatible with my downlight fittings?
This is an MR16 fitting - with two sharp pins on the base. If your current bulbs have thick cyclinger shapes on the end of the pins, it is a GU10 fitting.
The DR700 LED is a breakthrough in LED technology as it allows you to swap all your old energy hungry halogen bulbs over to efficient LED's simply by swapping the bulb.
Start making a positive contribution to the environment while saving on your power consumption with the DR700.
Specifications:
Fitting / base: MR16
Lumen Rating: 720lm
Light Quality(CRI): 83+
Efficacy: 68 lm/W
Colour Temp: 3000k
IP Rating: IP44
Wattage: 10.5W
Beam Angle: 60°
Lifetime* (Ta35º): 70,000hrs
Input Voltage: 12V
Gimble Angle: ±15º
Ambient Temp.: -28 to 50º
Operating Temp.: -20 to 85º
Luminaire Class: IEC 60598-1:2008
Please note: *Official brightness of 50W halogen according to the Department of Climate and Energy Efficiency.
Please use the Contact form on the right for Brightgreen DR700 LED light bulb MR16 information and ordering.