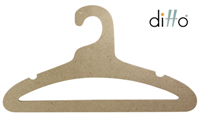 Product by:
ecohang


The innovative and beautifully designed Ditto eco hanger is stylish and smart choice for your wardrobe and life style. Available in Designer Black or Sand Dune the Ditto hanger is sturdy enough to hang the most delicate dress, heaviest winter coat or your favorite business suit. Fashion savvy men and women will love the modern and the light-weight design, plus with the Ditto hanger you can fit 50% more clothes in your wardrobes space without fuss.
Ditto eco hanger is a favorite choice for major fashion brands and now this beautiful product is available in Australia. Made from industrial strength recycled cardboard the Ditto eco hanger is stylish, strong and sustainable
The Ditto hanger is even 100% compostable and contains no toxins meaning they are 100% safe for you and the environment.
Ditto-Green Heart Global has been awarded the prestigious Acterra 2013 Business Environmental Award for environmental innovation.The Committee noted the Ditto hanger as an extraordinary example of sustainable design.
Please use the Contact form on the right for Ditto Eco Hangers information and ordering.