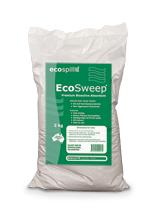 Product by:
Ecospill QLD


Here at EcoSpill, we are your Australian suppliers of spill kits, Bioactive Absorbents, drum pallets, floor bunding, safety cabinets and other products. We are committed to helping all our clients meet their environmental obligations.
Our EcoSweep Bioactive Absorbent is made from a special selection of Australian grown organic cellulose products. These are 100% natural and very fibrous. They are blended and processed to produce a range of absorbents that has been proven to quickly absorb many liquids, including petroleum, oils, fuels, solvents, cooking oils, sewage, protein fluids and other messy liquids that could pollute or contaminate the work area.
Our EcoSweep is unique in that its fine granules are hollow. This means that they rapidly encapsulate the liquids so they cannot leach back into the environment. This is known as the "wicking effect" as once liquids are absorbed, they are consumed into the capsules and cannot separate or drip.
We are proud to announce that our EcoSweep passes the USEPA Paint Filter Liquids Test – Method 9095A. This is the recommended standard from the Queensland EPA Operational Policy – Determinations: Schedule 7 under the Environmental Protection Regulation 1998.
Please use the Contact form on the right for EcoSweep Bioactive Absorbent information and ordering.